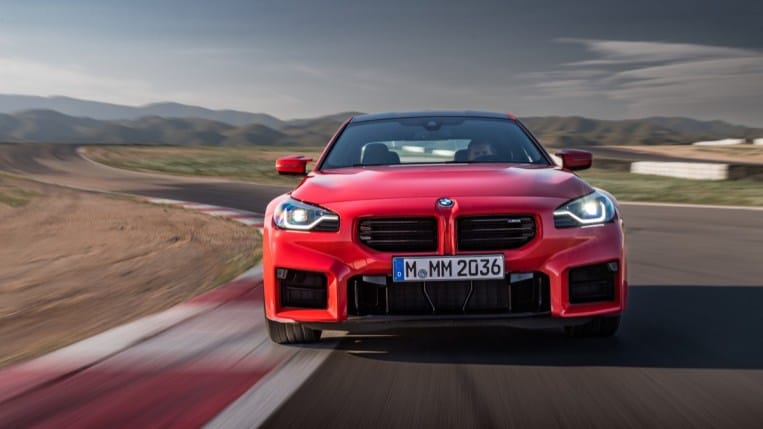 On the cusp of the electric car age, BMW is known for two things — extraordinary driver's cars and exaggerated designs that put off some of the fanbase that loves them.
The famous BMW M division takes everything BMW does and turns it — on a scale of 1 to 10 — a little past 12.
So, if we told you to predict the spirit of the last purely gas-powered M car, you'd probably sketch out something pretty close to this: the 2023 BMW M2.
Extraordinary Performance Specs
Everything M builds from here on out will be either all-electric or electrified (a term that encompasses hybrid and plug-in hybrid vehicles). The high-performance team's designers have always been master artists with fire and grunt as their medium. So, you knew their last pure example of the form would be special.
The M2 gets its grunt from a turbocharged inline 6-cylinder engine making 453 horsepower and 406 lb-ft of torque. It's the same engine in its big brother M3. Power goes to the rear wheels through either a rev-matching 6-speed stick or an 8-speed automatic transmission. Curiously, BMW dropped the dual-clutch automatic of the last M2 for a more traditional gearbox.
The rear wheels get the power, so they get added grip with 20-inch light alloy wheels wrapped in 285/30 tires. The front set are 19-inch alloys, 10 mm narrower.
BMW says automatic transmission-equipped M2s will get to 60 mph in just 3.9 seconds. Manual-equipped versions take 4.1 in the hands of a trained test driver. An Active M differential and Adaptive M suspension should keep it flat and steady in hard corners. Ten traction control modes and two steering modes help you find the balance that works best for you.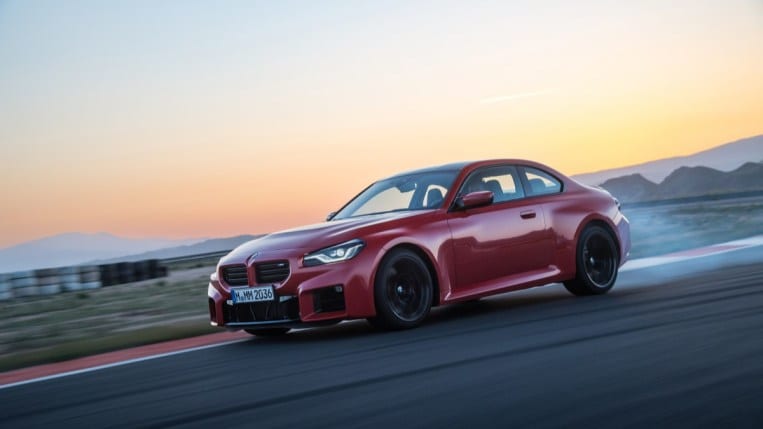 Pugilistic Design
The last M2 wore a luxury sedan's sedate lines with subtle hints that something more capable lay underneath.
The new M2 thinks that's pathetic.
This isn't a tailored suit with a Brooks Brothers lineage and no tie for modern flair. It's a suit from a Fashion Week show, with no shirt to show the model's muscles. It's the most angular M sedan, with big boxy air vents low on the fascia under a hard-edged interpretation of the twin-kidney grille.
BMW loyalists upset by the huge grilles of current designs like the 7-Series and M3 will be happy to know it's still a svelte little grille. Just a boxy one.
Bulging wheel arches, front and back, are almost the only curves the car wears. A sharp shoulder-line crease passes over them in the rear as if to emphasize the wide stance. The M2 actually matches the track width of the M4.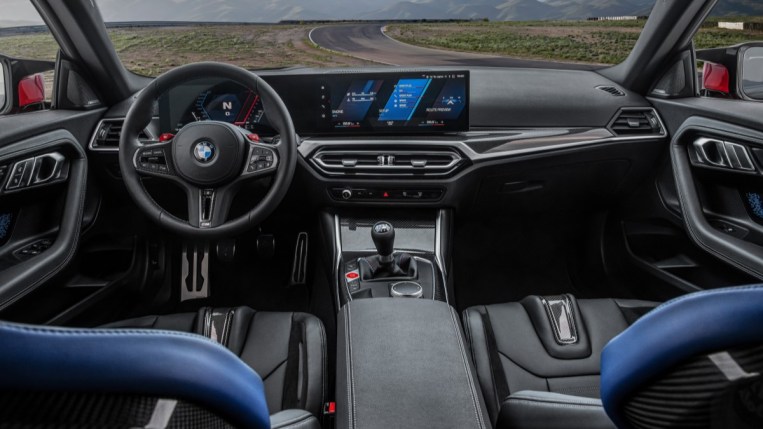 New Nerdy Track Tech
Inside, standard sport seats wear BMW's SensaTec leather alternative (they're working toward vegan interiors, after all). Black or cognac leather with Alcantara accents is available. Optional lighter buckets use carbon fiber-reinforced plastic.
A big curved digital display on the dash houses a 12.3-inch gauge cluster and a 14.9-inch infotainment touchscreen. It's all driven by iDrive 8, the latest iteration of BMW's user interface. This one includes enhanced voice recognition, 5G connectivity, and a Wi-Fi hotspot. An optional head-up display puts speed, navigation prompts, and similar info directly in the driver's line of sight.
The 2023 M2 may be the last gas-powered M product, but it's every bit as high-tech and gamified as the electric M models the company is beginning to produce.
That display has a new trick. The classic M lap timer is here, of course. But alongside it comes the new M Drift Analyzer, which records the duration, distance, and angle when you get it sideways.