We commonly get asked what our opinions of many new vehicles are. Often enough, we give people the cold hard truth and they don't want to accept what we have to say because the person asking the question had their heart set on liking (or disliking) a certain vehicle that they inquire about. Most times, we understand and have some sympathy for that person's feelings as we hope others understand when we say that BMW has lost its way when it comes to new vehicle design and the new 2023 BMW M2 somewhat solidifies our thoughts.
The new 2023 BMW M2 looks to be a masterpiece on paper when it comes to its performance numbers and we're willing to bet that it drives like a dream, especially for enthusiasts like us when BMW gives us the option for a 6-speed manual transmission. Yes, the new BMW M2 can be optioned with a manual transmission, probably the very last of its type in a smallish performance package.
BMW's design has gone astray in many ways when we look at vehicles like the new M3, M4, 4 Series, new 2023 X7, and the awful-looking 2023 BMW 7 Series. We say this because we remember the days when BMW has some of the best-looking luxury performance vehicles on the road, sans some of the Chris Bangle-design inspiration.
We owned some of the good-looking BMWs, in fact, and people adorned how stylish these ultimate driving machines were. This week, BMW unleashes the new 2023 M2, a hot two-door pocket rocket that many may claim to be a smaller M4 as it touts 453 horsepower and 406 lb-ft of torque that surges at its max between 2,650 and 5,870 rpm from its brand-familiar S58 3.0-liter turbocharged inline-6-cylinder. The 6-speed manual transmission comes as standard equipment as BMW will offer a ZF-sourced 8-Speed automatic transmission as an option. BMW claims the new M2 will hit 60 mph in just 3.9 seconds with the automatic transmission or 4.1 seconds with the 6-speed manual.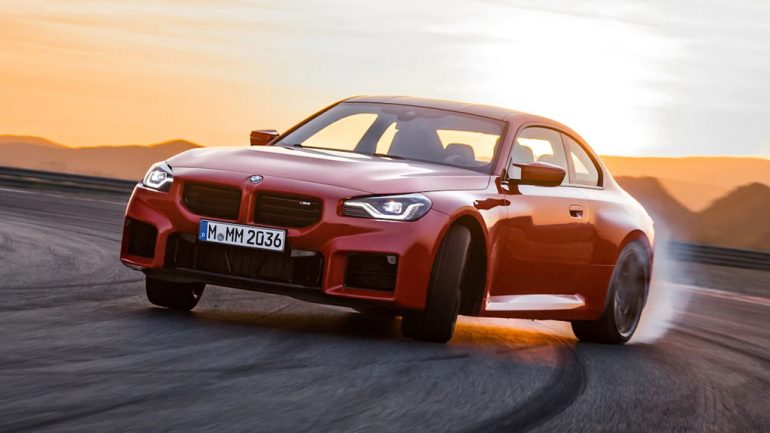 In making the new BMW M2 special, there's a total of 10 different DSC (dynamic stability control) levels to dial in your preferred stage of intervention when you're attempting to kick the rear end out of this rear-wheel-drive Bavarian screamer. Through a dedicated M Mode button, you can quickly reduce all the electronic nannies where it's just you, the M2, and the staggered set of 19-inch front tires and 20-inch rears. You can enact a clever M Drift Analyzer to record your duration of sliding the rear if you're adventurous enough and have a new set of tires ready to mount.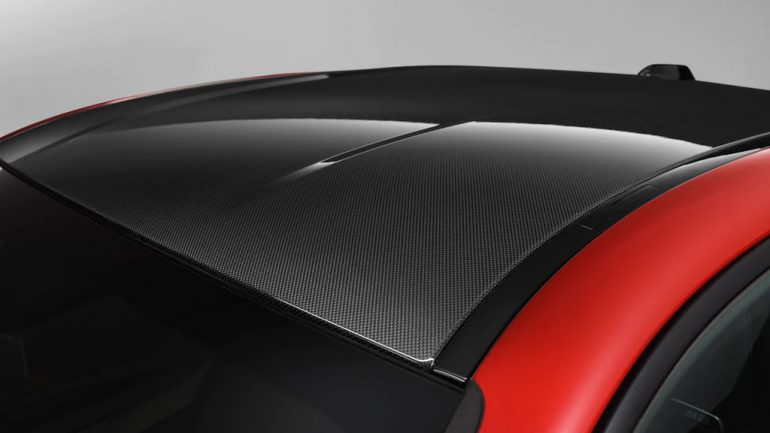 The new 2023 BMW M2 tips the scale at 3,814 pounds for the 6-speed manual and 3,867 pounds if you opt for the 8-speed automatic. There is now a carbon fiber roof option that shaves a few pounds and lowers the center of gravity for the M2.
Inside the new BMW M2 is a cabin that takes on the newly adopted setup for the brand featuring the latest iDrive 8 system with curved screens encompassing a 12.3-inch display for the digital gauge cluster and a 14.9-inch infotainment touchscreen. The system also uses the customary iDrive physical control knob and buttons and cloud-based navigation with 5G connectivity a Wi-Fi hotspot, and wireless Apple CarPlay and Android integration.
The best part of the interior points to the seats, which there are three options to choose from. The seats are similar to what you find available in the new M3 and M4 with availability for M Carbon front lightweight seats that come as part of an optional Carbon Fiber package, which saves about 24 pounds compared to the standard seats.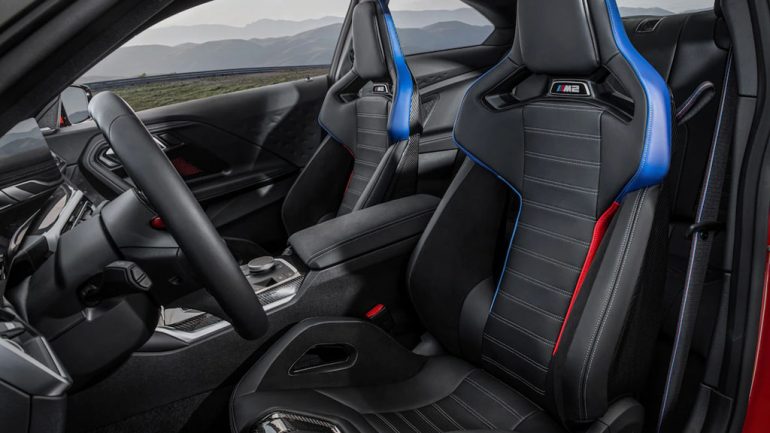 To round up our thoughts on the new 2023 BMW M2, it doesn't look as good as we hoped but at least it doesn't have the buck-toothed grille of the M3/M4 and 4 Series. The design aspects take the decent-looking new 2 Series (230i/M240i) and beef them up where it looks like a new M240i just received some serious Botox injections. The look is fine from a distance by retaining somewhat of a 'normal' kidney grille, but the puffy bumpers and more squared-off air inlets seem out of place to us. Either way, we don't want to call the new M2 ugly – because it's really not, it's just a little challenged. However, we think potential buyers will overlook its 'looks' after jumping into the driver's seat as we think this could be one of the last compact fun machines that have an internal combustion engine and a 6-speed manual transmission.
Those looking to 'get it while you can' will be pleased to see a starting price of $63,195 before any fees or options when the new 2023 BMW M2 goes on sale in early 2023. Such a price isn't that bad when you consider how much a new loaded-out M240i cost or even a base 2022 M4 without any options. You did good, BMW – except… well, never mind. Just take our money!