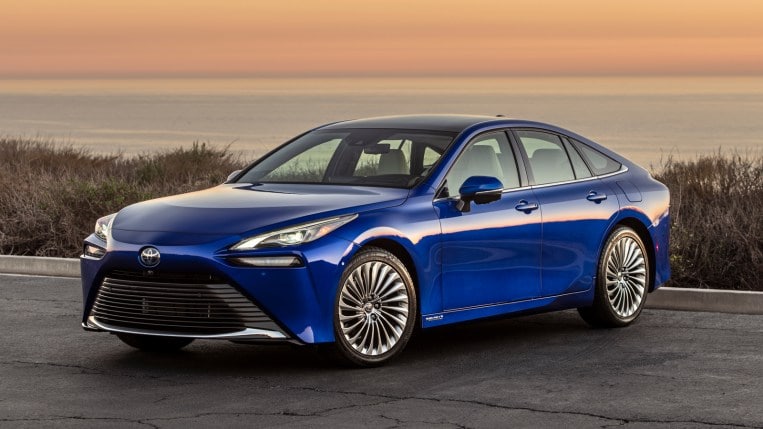 It's been a brutal year for car prices, but there's one reliable deal that always seems too good to be true. Yet it is true, as long as you can live with strange compromises.
The 2022 Toyota Mirai is again available with a discount of up to $25,000. That's 38% off the purchase price for a near-luxury sedan with a beautiful panoramic glass roof, a stunning modern-style interior right out of an upscale art gallery, and cabin tech that responds to voice commands.
Oh — and you get six years or $15,000 worth of free fuel.
The catch? It's that fuel. It's hydrogen.
Just Three of Its Kind on the Market
The Toyota Mirai is an automotive oddity. It's one of just three hydrogen fuel cell cars left for sale in the U.S.
It borrows much of its architecture from the Lexus LS — the flagship of the Lexus lineup. But its style is sportier, and its cabin is one-of-a-kind, with a gorgeous 2-tone dashboard that looks like a piece of high-end midcentury modern furniture blended with the screen-heavy tech of today's cars.
The handling is Lexus-smooth, though the acceleration is just OK, thanks to a rear-wheel-drive (RWD) powertrain that makes 182 horsepower. But that powertrain uses Earth's most abundant element as fuel and produces only water vapor as exhaust.
Only Sold in California
The trade-off in Mirai ownership is that most of your driving is limited to California. The U.S. Department of Energy's Alternative Fuels Data Center lists fewer than 50 hydrogen fueling stations nationwide. Every last one of them is in the Golden State — though you could pop across the border into Canada to refuel if you somehow got a Mirai to Washington state or parts of northern New England.
However, you can buy a Mirai XLE in California for as little as $49,500 — a base price that hasn't changed in three years. If you finance it through Toyota Financial Services, you can take a bonus cash offer of $17,000.
If you opt for the top-of-the-line Limited trim, the price jumps to $66,000. But the bonus cash jumps to $25,000.
A $15,000 Gas Card
Both versions come with $15,000 worth of free hydrogen — about as much, Toyota estimates, as you'll use in six years of driving. For many buyers, California will also throw in a tax incentive of up to $7,000 through its Clean Vehicle Rebate Program. With the rebate, some buyers could drive home a Mirai at a laugh-out-loud 51.5% discount.
Toyota estimates that the Mirai has a range of about 402 miles between fill-ups, but you're not strictly limited to travel within 201 miles of the nearest hydrogen fueling station. Mirai buyers can borrow a gas-powered Toyota for no charge for up to 21 days a year for longer trips.