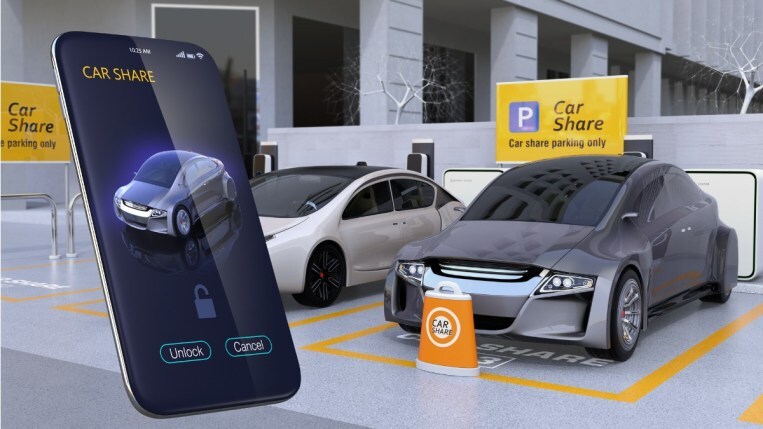 Peer-to-Peer Car Sharing Quick Facts
Car sharing apps provide a method for vehicle owners to make money through short-term rentals.
Renters can seek specific models to use for extended test drives before making a purchase online or at a dealership.
Hosts can offset their ownership expenses by car sharing; renters can enjoy desirable vehicles not otherwise available at traditional car rental companies.
Car sharing has become popular in recent years as a short-term rental solution. A car share service may be ideal for those who only need a vehicle for a few days or specific occasions. While you may consider a traditional rental company when you travel or need temporary wheels, it's worth weighing all your options.
Vehicle owners should also consider the favorable benefits of car sharing. If you own a newer vehicle, understand that it's an asset that costs you money every day. Loan payments, insurance, and depreciation add up whether it's driven or parked. What if you could put your car to work, earning money instead of sitting idle? Learn more about how car sharing works below.
What Is Car Sharing?
Car sharing is a peer-to-peer marketplace for passenger car owners to rent their personal cars to people who need a short-term rental. It's similar to how Airbnb, Vrbo, and other home-sharing companies helped offer an alternative to typical hotel accommodations. Car sharing apps provide an alternative option to a traditional car rental.
This kind of service makes borrowing a car more accessible and affordable while allowing car owners the opportunity to earn additional income. Instead of staying parked in your driveway, at work, or in the airport parking lot, your car is available for someone else to rent.
If you own a desirable car but only drive it occasionally, being a car sharing host lets you put the vehicle to work while not using it. For renters, a car sharing service might be the answer if you're seeking a specific model to drive for a short period with rates less expensive than traditional rentals.
Car sharing helps bridge the gap between owners who can offset some expenses of an unused vehicle and potential renters wanting a reliable and affordable car to use.
Services are popping up at airports and in cities across the nation as an alternative to traditional car rental services. Each company has its own set of terms and conditions, and you register through an online portal to get started. To borrow or "share" a car, you must be over 18 and have a valid driver's license. Age requirements may be higher for high-value vehicles. Most companies do not accept drivers who only have probationary or provisional licenses. Some may require a more thorough background check or review of your driving record.
Car owners interested in renting out their vehicles also register with one of the sharing sites. The company will likely require several interior and exterior photos of your car. Pricing is based on the type of car, your location, and the time of year. Rates will be higher during certain times and holiday seasons.
Host Your Car
Insurance is the first thing most car owners may consider when signing up for car sharing services. Popular peer-to-peer companies like Avail and Turo include coverage with each trip via Allstate and Travelers, respectively. Protection plans will vary among services, but they'll include different levels of reimbursement for instances of theft, vandalism, and other physical damage. However, you may still be responsible for the deductible when it's time to make a claim.
For payment, you'll receive a percentage of each trip total. Some companies may have additional service fees and monthly maintenance charges that help offset their operating budget. Read the cost outline and insurance terms thoroughly before signing up.
Depending on which service you choose, they may require a maintenance and safety inspection. Sharing services may reject cars over a certain age due to liability concerns. Some companies are more selective of how many miles they'll accept on the odometer. Since it's your car, you'll oversee the schedule. If there are days, weeks, or longer periods where you can't lend the vehicle to borrowers, set up the appropriate blackout dates on your booking calendar.
Borrow a Car
The beauty of a car sharing app is its simplicity. You can set everything up in just a few taps, the same way you'd book a hotel or schedule a rideshare. To get started, you'll register your info and create an account. From there, these services will instruct you to upload a photo of your driver's license — front and back.
Once the company verifies your information, you can start booking. Some services include delivery and return of the vehicle. In contrast, others require you to pick up the car from its home location and bring it back at the end of your share window. Unlike most traditional car rental companies, some sharing services don't charge more for drivers under a certain age. With Avail, for example, if you're 18 and pass their verification, the rates remain the same.
There are limits to how far you can drive. Getaround has a base mileage limit of 200 daily miles, while Turo restricts the mileage to 150 per day. You'll have to pay additional fees if you go over these limits. Cleaning fees and service charges may also apply, so consider the grand total carefully before deciding if a car share is more affordable than a traditional rental.
RELATED ARTICLE: What Is Car Financing?
Zipcar: Some consider Zipcar to be the original short-term car rental network. Avis Budget Group, a company known for traditional rental car services, is the corporate parent. The company, not individual hosts, supplies the vehicles members can borrow. These are most popular with businesses and residents of dense city centers, and also have locations on university campuses for students on the go.
Turo: Turo is one of the largest car sharing marketplaces across the U.S., Canada, and the U.K. They boast that you can book

"

any car you want, wherever you want it."
Avail: Owned by Allstate, Avail is growing its presence in Chicago and Denver. Their network matches available registered cars with pre-qualified renters. The company handles the car exchange, cleaning, inspection, and insurance process. This makes it easier and safer for both the owner and the renter.
Getaround: Getaround says its mission is to

"

empower" people through the carsharing market. They want to help consumers move away from owning vehicles as a way to help solve environmental sustainability issues.
Car Sharing Pricing and Fees
RELATED ARTICLE: Car Maintenance Guide: Everything You Need to Know
While the rates may be great for borrowers, and the idea of earning extra income appeals to car owners, there are pros and cons to using a car share service.
What Are the Benefits?
Car sharing can help you recover a portion of your monthly vehicle costs. For example, if a car rents for $8 an hour, with the owner receiving 75% or $6, every 10 hours of rent nets $60.
As a renter, you can benefit from using a car for as little as an hour at a time at a very affordable rate. You also avoid the hassle and expense of car ownership. Depending on where you live, many cars are available and accessible within walking distance.
What Are the Risks?
Owners face the most risk with car sharing and must come to grips with strangers driving their cars. However, these companies do carry additional insurance for your vehicle. This includes liability for accidents involving other cars and drivers. Only a handful of states have addressed insurance complications for car sharing, mainly who pays for what in case of an accident. Before committing your car, talk to your insurance agent. Consulting a tax specialist will help ensure that all your bases are covered. To play it safe, beef up your liability insurance coverage if you plan to offer your car for rent.
Read Related Articles: